The Supply Chain Will Never Be the Same Again
Is it safe to assume the past two years for you have been different; might we even say, monumental? Although no one was lucky enough to escape the side effects caused by a global pandemic, the supply chain took one of the largest hits of all.
The past two years have spiraled from one major event to the next: a crude oil market crash in 2020, an ongoing driver shortage, and recently, a sharp fuel cost spike (to name a few). Collectively, these events will cause handfuls of companies to see their final day in business.
A harsh reality: life brings with it many uncertainties. In times of change and even crisis, you must question your order of operations and your commitment to your customer community. Who are your partners in a time like this? What do they stand for? In the face of tough business decisions, how do they react? Are they facing it with you or are they starting to look for new opportunities?
Q&A Session With Jonathan Currie (JC), CEO at Qv21 Technologies
Photographed: JC at 13,000 feet on the top of Baldy Mountain, east of Breckenridge taking in the view during his best ski day of the season.
Throughout his career, Jonathan Currie, CEO of Qv21 Technologies, has witnessed the constant shifts that the global supply chain has endured long before 2020's infamous bookmark. We sat down to ask him how Qv21 plans to support the company's customer base through significant logistics barriers. Here's what he had to say.
Q1: How is Qv21 supporting its customers through rocky market conditions, such as driver shortage and the recent fuel cost spike?
Our core strategy at Qv21 is always to protect our customers first...and then, only then, extend and grow the business.
Most software companies chase new business before they realize the importance of looking after their existing customers. The impacts of this are often revealed in the form of tone-deaf, disconnected conversations in response to uncertainty. Over the course of my career, I have seen it too many times before where software companies will shut down a customer in crisis, rather than working in partnership and being flexible, to help them weather the storm. This only compounds the problem.
At Qv21, we stand for true partnership.
When the cost of fuel skyrocketed, I flew out to visit some of our customers, because when it all boils down, our role to play is simple: we must show up.
In practice, this looks like the Qv21 team regularly checking in with our customers, monitoring their data at least as much as they do, and proactively looking for leading indicators and trends that add value to their business operations. If your operations are in flux, count on us to give you the call first – not the other way around.
We proudly stand by our customers no matter the circumstances. Our first concern is them, always. Our goal is not to punish them for experiencing hard times, but rather be the ones to help them through it. Loyalty goes a long way!
Q2: Why is data critical for trucking companies always, but especially right now?
Data is just data, but the information that comes out of data should be driving every decision trucking companies make.
If a trucking company is operating without the right technology or data, it's like flying an airplane blindfolded. They have no idea where they're going. They have no idea where they've just been. They've no idea of their status, and it's by choice that they keep the blindfold on. The data is all around you; you just must be willing to look.
Data right now is crucial. Imagine not knowing how many trucks or loads you are running. Imagine not knowing how well you did against contractual performance for your customer. Without data, there is no plan for tomorrow and no way to review and correct what occurred today. Every step must be highly visible and accounted for to make it through these barriers.
Q3: How does data add value to customer relationships?
In our industry, most people see world-class service as clean trucks, good (and qualified) drivers and top-notch on-location service; "right truck, right place, right time" as some say. But it can't end there - if you don't provide the data on the back end every day, you simply cannot deliver a world-class experience.
Data matters. The data, not just the cleanliness of the truck and the qualifications of the driver, but also the cleanliness and quality of the end-to-end transaction data you provide to your customer. It is a crucial part of the service that you deliver. When you get that right, the trust and confidence your customers have in your operation becomes the bond to keep everyone together.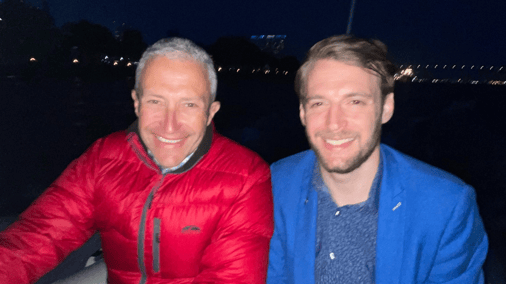 Photographed: Andrew Keim (right), Qv21's Director of Customer Success and JC (left), Qv21's CEO.
Q4: What technological advancements do you predict will be informed by the past few years of change and crisis?
Years ago, trucking companies didn't really care about the driver's experience of technology in the cab. Drivers were just expected to drive while the office staff would mop up the data at the end of every day.
Because of the driver shortage, the industry has completely flipped. We've seen, firsthand, significant fleets make a mindset U-turn to ensure the driver's day-to-day experience with technology is better. Drivers, especially the younger ones, are happy to work with good technology and like coming back to the trucks the next day. That helps reduce driver turnover for our customers, and mitigates against the "bonus jumper" dynamic that's hurting the industry right now. Some of our customers have seen 300% driver turnover in the last year, and our goal is that technology becomes a meaningful driver retention strategy.
So, what does that mean from our perspective? Our product must be very slick with as few touch points as possible to get the job done. Technology has a huge role to play in creating a world-class driver experience. Fewer apps, a true end-to-end technology platform, and everyone wins.
Q5: What measures should a company take as we enter bear market territory?
Avoid avoidable issues.
This is not the time to have on-premise technology. Where is your data hosted? It should not be in your office. On-premise servers are susceptible to being hacked. When you don't have backups of your data and with nothing stored in the cloud, your business will either tank or you will spend months, if not years, rebuilding lost data.
Your core B2B technology should be provided by a SaaS provider (like us!) where your data will be in the cloud where it's secure.
Q6: Is now really the right time to invest in technology?
Only you know what's going to be best for your business at the end of the day. But if you'd like our perspective, there is never a wrong time to review your technology stack. Revisit your core systems and be honest with yourself by asking "Can we do better?".
If you're not living on the edge, now is the best time to review your technology ecosystem, and make strategic decisions that put you ahead of the game. When the market is distracted, take advantage of it! It's a perfect time to implement new business processes, and underpin that with market-leading tech.
When the market picks up, it's inevitable that your current and future customers are going to expect the most from you. Now is the time to explore, invest, train, and plan before everyone is off to the races again. There's no point waiting until everything is flowing again, because the work you put in now will make all the difference then. Be consistent and get ready! Start those conversations, ask the questions, and see how technology can bring you to a better place than where you started.
Q7: What advice do you have for a trucking company right now?
Three things come to mind:
Show up, and look after your customers. Make sure they are exceptionally happy with your service.

Negotiate strategically, and for the long term, not just today. Think wisely about fuel surcharges.

Stay the course, do not panic. We've been here before, and we will make it through again.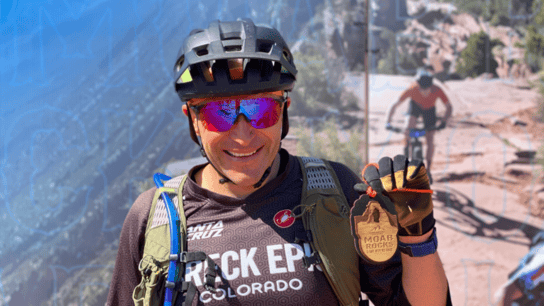 Photographed: Jonathan Currie, Qv21's CEO, staying the course during his Moab Rocks 3-Day Mountain Biking Race.
The supply chain has and will continue to fundamentally change.
Even just between 2020 and 2022, the shifts are profound. For instance, the public was blissfully unaware of the complexity of the global supply chain two years ago. Overnight, we all became supply chain couch experts.
The demand for delivery will only increase; that's the world we're living in. Systems are evolving and every industry, especially the transportation and technology industries, must evolve with it.
Trucking is the lifeblood of the supply chain. The supply chain will never be static, even if it feels that way. So, our question for you: how will you choose to evolve with it?