A transportation management system (TMS) is a single platform that simplifies the incoming and outgoing movement of goods for short-haul bulk commodity trucking companies. Maybe you're in the market for TMS software but you're not exactly sure what to look for. Maybe you're thinking it's just too costly to implement a brand new TMS for your business right now. Maybe you already have your own homegrown system, or you don't think you need a TMS at all.
Whatever your objection may be, don't let a lack of information scare you away from considering how using a TMS could make all the difference in growing and optimizing your trucking business.
Why Bother Using a TMS?
Well, it's simple; without a TMS, your entire hauling operation could fail to function at full efficiency.
On the drivers' side of things, they may not receive jobs due to missing calls / texts, meaning their routes take longer to complete than they should. For your back-office team, the lack of real-time visibility could lead to inaccurate reporting or missing information all together. Every department will be bogged down by these inefficiencies causing friction between team members, clients, and contract drivers. Not using a TMS typically results in an unhappy team and a disorganized operation.
Three Big Benefits Of Using a TMS:
Fewer, or even total removal of, tedious manual processes which saves time and alleviates stress
Enhanced data security and management, for you and your customers
Reduced operational costs and transit times
What Does Our TMS Offer?
When it comes to comprehensive functionality and ease of use, our cloud-based TMS solution, The LogisticsFramework™ (TLF), sets the standard for transportation management software.
Although this is an out-of-the-box solution, Qv21's flexible software modules are customizable to your specific business needs, offering powerful tools to manage your fleet(s) more effectively:
Dispatch: to alert and update your dispatchers on your fleet's progress
GeoTrack: to track shipments using real-time GPS and optimize pick up/drop off routes
E-Ticketing: to manage all of your ticket data in one place without all the paper
Electronic Logging Device (ELD): to easily capture your drivers' hours of service (HOS)
Invoicing: to automatically bill your customers from anywhere you go
Driver Payroll: to create fully customizable payroll contracts
Business Intelligence: to streamline data analysis and reporting, from any device
3PL: to outsource your surplus workload to third-party logistics carriers (in or out of network)
Order Manager: to help your customers place and manage orders instantly no matter where they are
Customer Portal: to assist with supply chain management by allowing carriers, shippers and other partners to view inventory movements simultaneously
Our customized integration and software adoption process, conducted with the support of our Onboarding team, simplifies all of your work processes and encourages scalability as your trucking business grows.
Post go-live, our dedicated Customer Experience team will check in as often as you need. They will be the middle man between your needs and our Customer Support, Quality Assurance, and our Software Engineering experts, who are available year-round.
To top it off, all of your data is protected within our secure SaaS platform and can be stored and managed from a single, centralized location in the cloud. You'll never need to worry about lost data or tedious upkeep again!
An Emphasis on B2B Service
Qv21 cares about our customers - which means we also care about our customers' customers! We value establishing deep partnerships and, we believe, it is this emphasis on B2B customer experience that has kept our business relationships so healthy over the past decade.
We always show our appreciation for our customer partnerships, one being Indeca Crude Express. They've been a customer for over 5 years , allowing for a great opportunity to establish deep roots in the crude oil industry. Thanks to the relationship we have with Indeca's President and Managing Partner, Steve Williamson, our business and their's continues to flourish. Here's what Steve had to say about Qv21, our TMS and their experience:
"There isn't anything we wouldn't do for each other. I never feel like I am out on an island waiting for Qv21 to come get me – I know they are out there with us, navigating us back to shore. Soon, we'll be venturing off into some new services such as unload stations and crude oil trading. I know Qv21 will be right there with us, assisting in our new endeavors. I look forward to our growth together, going through it shoulder to shoulder. When you work with Qv21, you are going to get everything that you expect and more. They are the best at what they do."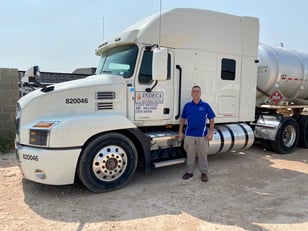 Whether you're looking to scale, restructure or completely overhaul your trucking business, our US-based team is there to support you every step of the way -- even during those odd hours -- so you're guaranteed to get what you pay for!
The onboarding process won't leave you in the dark, making it easy to hire staff, provide custom training for your drivers, dispatchers and back-office personnel and sync the work they're all putting in on a daily basis. We can walk you through the functionality of the modules relevant to your business, or give you a comprehensive demo of the entire TMS. It's up to you!
From order to invoice, pick up to drop off, regardless of the type of trucks you have on your mind, we can provide daily, weekly and monthly insights for any type of trucking business, big or small. Qv21 specializes in the short haul trucking industry, so we're designed for exactly what you're doing. Get in touch with us today to find out how we can help you navigate your way through the world of fleet logistics!