4 min read
4 Benefits of Solid Waste Management for Your Waste-Hauling Operation
Within the last decade, the blame for environmental damage has seen a shift from the "wasteful consumer" to the "wasteful corporation." Companies now feel increasingly obligated to keep their communities -- and the environment as a whole -- clean and waste-free. This is good news for the short-haul waste transportation industry.
While most of us are familiar with the frequently cited benefits of proper solid waste management -- conservation of natural resources, reduction of air, water and land pollution, support for community development -- the advantages go beyond simply protecting our health and environment.
Here are 4 benefits your organization and your customers can expect from proper solid waste management.
1.Efficiency, Efficiency, Efficiency
The single biggest benefit of a solid waste management program is the improvements to your operational efficiency and productivity. A major part of increasing operational efficiency is knowing where waste needs to be taken and making sure it gets there on time, safely. Through optimization of municipal solid waste collection and transportation routes, and specialized waste collection, storage, and disposal equipment and vehicles, you can more effectively haul waste to where it belongs.
Our role -- and our goal -- is to improve our customers' waste transportation efficiency by streamlining the entire collection and transport process, from order to invoice, and creating a more dynamic experience through real-time data. Qv21 offers several core modules within our TMS to keep you focused on growing and simplifying your waste-hauling business without the headaches:
Ticketing: Get all of your ticket data accurately, conveniently and in real-time (without all the paper). Compared to traditional ticketing/reporting systems, Qv21's automated ticketing is the best way to run a waste management business.
Dispatch: Quickly update your dispatchers on your fleet's progress to help them make more informed decisions about where to route your waste transporters.
GeoTrack: Making use of real-time GPS to track your loads, our GeoTrack module can facilitate your waste collection and transfer station operations by guaranteeing that your equipment and your drivers are being employed as effectively as possible.
2. Boost Your Corporate Health and Stamina
All too often, waste haulers can get bogged down by things like vehicle downtime, penalties stemming from improper waste management or transportation procedures, or unhappy customers. Issues like these can make everyone in the organization tense, from the CEO to the drivers. Work is less enjoyable, burnout becomes more likely, and your brand image and reputation take a hit.
Another benefit of a proper solid waste management plan is the boost you can expect to your organization's health and overall stamina. Effective solid waste management reduces company stress and keeps everyone engaged. It also encourages all stakeholders to work together, from local governments and private businesses to the individual waste storage, treatment and disposal facilities. Ultimately, it's you, the waste hauler, who does the heavy lifting and connects them all.
Start strengthening those relationships and enhancing your brand image by providing greater transparency to your customers. Qv21's web-based Invoicing module let's you invoice from anywhere, automatically with the correct customer contract. And to make the experience more convenient for your customers, there is also the Order Manager where your customers can go to place orders with you directly wherever they are. By remaining transparent and doing everything you can to improve their bottom line, your own financial position will improve by leaps and bounds too.
3. Do More With Less
Grow your business without the growing pains by helping the decision-makers in your organization evaluate your waste management activities more accurately.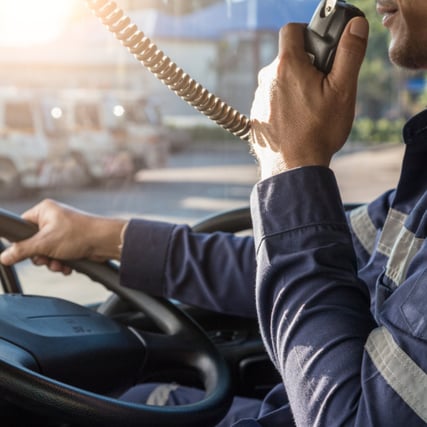 Whether it's municipal, industrial or agricultural waste you're hauling, streamlining your waste business with proper solid waste management allows you to scale your efforts without having to hire more dispatchers. By keeping your dispatcher-to-driver ratio low, you can increase the number of trucks you're dispatching without implementing any additional dispatch resources, thereby eliminating overhead costs. That's exactly how we helped our waste transport customers.
4. Make Your Team Your #1 Priority
Expect your organization's work-life balance to improve as well. With the right fleet logistics solution, it becomes easier to schedule loads, keep your drivers happy, and get them home safely and on time every night. To help your waste hauling operation remain more driver-centric, we've designed an Electronic Logging Device (ELD) module within our software that allows you to maintain a more accurate log of your drivers' hours of service. There is also a Driver Payroll module that can be easily integrated with your existing billing system, enabling you to customize your payroll contracts with the correct billing period for each of your drivers.
We haven't forgotten about your back-office team either! The Business Intelligence module gives your team the ability to review all of the waste hauling metrics that matter the most directly on their smartphones. And if your waste business is growing so quickly that you're having a hard time keeping up with the workload, outsource your surplus to in-network or out-of-network haulers without worrying about load data visibility with the 3PL module.
Final Thoughts
A healthy workplace with ethical and sustainable business practices encourages everyone to be more environmentally conscious and can be a huge morale booster. It gives your team higher calling that goes beyond just hauling waste.
Qv21 is the industry-leading TMS for short-haul, bulk commodity trucking companies, solving complex problems with simple solutions. Waste Haulers, just like you, are navigating their operations with our system, The LogisticsFramework™, and its insights. With Qv21, it's simple to streamline your waste-hauling needs.
If you are ready for a system to do the heavy lifting, save money, increase efficiency, and remove barriers, check out our resources page to learn more and start the Qv21 path to Logistics Without Barriers.